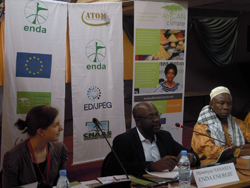 AfriCAN Climate and AfricaAdapt joined forces in Dakar, Senegal, to host a workshop and technical tour on the topic of Agriculture, Climate Change and Corporate Social Responsibility. The event was attended by senior officials from the Senegalese Ministries of Environment, Industry and Agriculture and included presentations by leading Senegalese academics including Professor Bienvenu Sambou, director of the Institut des Sciences de l'Environnement (ISE) at the Cheikh Anta Diop University (UCAD)  and Professor Amadou Gaye, Director of the Physics Laboratory of the Atmosphere and the Ocean at UCAD. A total of 6 panel sessions, covering a wide spectrum of issues, focused on 'good practices' regarding concrete actions that can help farmers adapt to the affects of a changing climate.
1st AfriCAN Climate Award
Following the two-day workshop in Dakar, the first AfriCAN Climate Award was presented to Nnaemeka Ikegwuonu, Executive Director of the Smallholders Foundation, for his work in developing the project "Climate Change on Air". With financial support from the World Bank, Nnaemeka successfully combined climate change scientific research, creativity, innovation to raise awareness and to communicate climate risk management techniques to over 5 million smallholder farmers, across 5 states in south-eastern Nigeria. Through a series of radio plays, millions of farmers now understand the science of climate change, and have been inspired to set up indigenous climate change adaptation and mitigation micro projects, helping to secure their livelihoods and household incomes.
AfriCAN Climate is a project co-funded by the European Commission within the 7th FRAMEWORK PROGRAMME. The project was set up by a team of 5 African and 5 European organisations, involving research institutes and networks – including the UNEP Risø Centre, and runs from October 2011 to September 2014.