18 November 2013: The UN Development Programme's (UNDP) Low Emission Capacity Building (LECB) Programme, the UNFCCC Secretariat and the UN Environment Programme (UNEP)-Risø have launched a publication titled 'Guidance for Nationally Appropriate Mitigation Actions (NAMA) Design: Building on country experiences.' The publication aims to support developing countries in developing and implementing NAMAs through providing guidance and best practice examples on key aspects of NAMAs, including financing, institutional arrangements and roles of different actors, measurement, reporting and verification (MRV), policy frameworks and potential actions.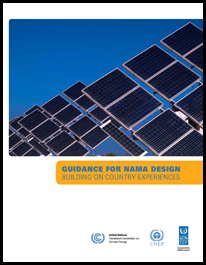 The publication was launched on the sidelines of the 19th session of the Conference of the Parties (COP 19) to the UNFCCC, in Warsaw, Poland.
The guidebook includes eight chapters, including an overview. The introduction describes NAMAs as voluntary actions for reducing greenhouse gas emissions (GHGs), introduces policy and project NAMAs and explains the relationships between NAMAs and the Clean Development Mechanism (CDM) and Low Emission Development Strategies (LEDS). The chapter on NAMA identification and prioritization suggests criteria and decision-making tools for prioritizing NAMA options and implementation modalities. The financing chapter emphasizes financial issues as among the first to consider in NAMA development and presents possible financing partners.
A chapter on NAMA development outlines information required for a NAMA proposal and recommendations for designing NAMAs. The MRV chapter discusses measurement and estimation practices and institutional arrangements. A chapter on quantifying NAMA impacts focuses on establishing baselines, estimating emissions and evaluating co-benefits, including for sustainable development. Finally, the guidebook discusses NAMA governance, including aligning domestic development processes with sound institutional structures and overcoming implementation barriers.
Four annexes focus on information sources and tools; case studies from Chile, Indonesia, Mexico and Morocco; a NAMA design template; and tools and standards for assessing emissions reduction.