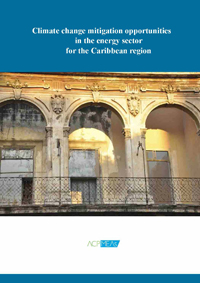 The new publication 'Climate change mitigation opportunities in the energy sector for the Caribbean region' presents a study based on an analysis of the mitigation potential in 16 countries in the Caribbean Region. The aim of the study is to provide Caribbean climate change practitioners and policy makers with value added information, in order to facilitate emission reductions in the energy sector, as part of the on-going and future scaling up efforts to apply and disseminate energy efficiency and renewable energy in the Caribbean.
By assessing the region's participation in the CDM and looking into the main bottlenecks for its application, the study presents a number of findings in terms of both constraints and prospects to alleviate the Caribbean countries dependency on fossil fuels, by means of energy efficiency, the application of low carbon technologies and the design and implementation of national energy policies supporting the former, in addition to the use and expansion of renewable energy.
UNEP Risø Centre conducted the study in collaboration with a team of experts from CUBAENERGIA. The publication has been prepared as part of the implementation of the Caribbean Regional Subcomponent of the MEAs Programme for Africa, the Caribbean and the Pacific (ACP MEAs).
You can access the publication here.