There are three main application areas for technology innovation in the climate realm
(see brochure for more information):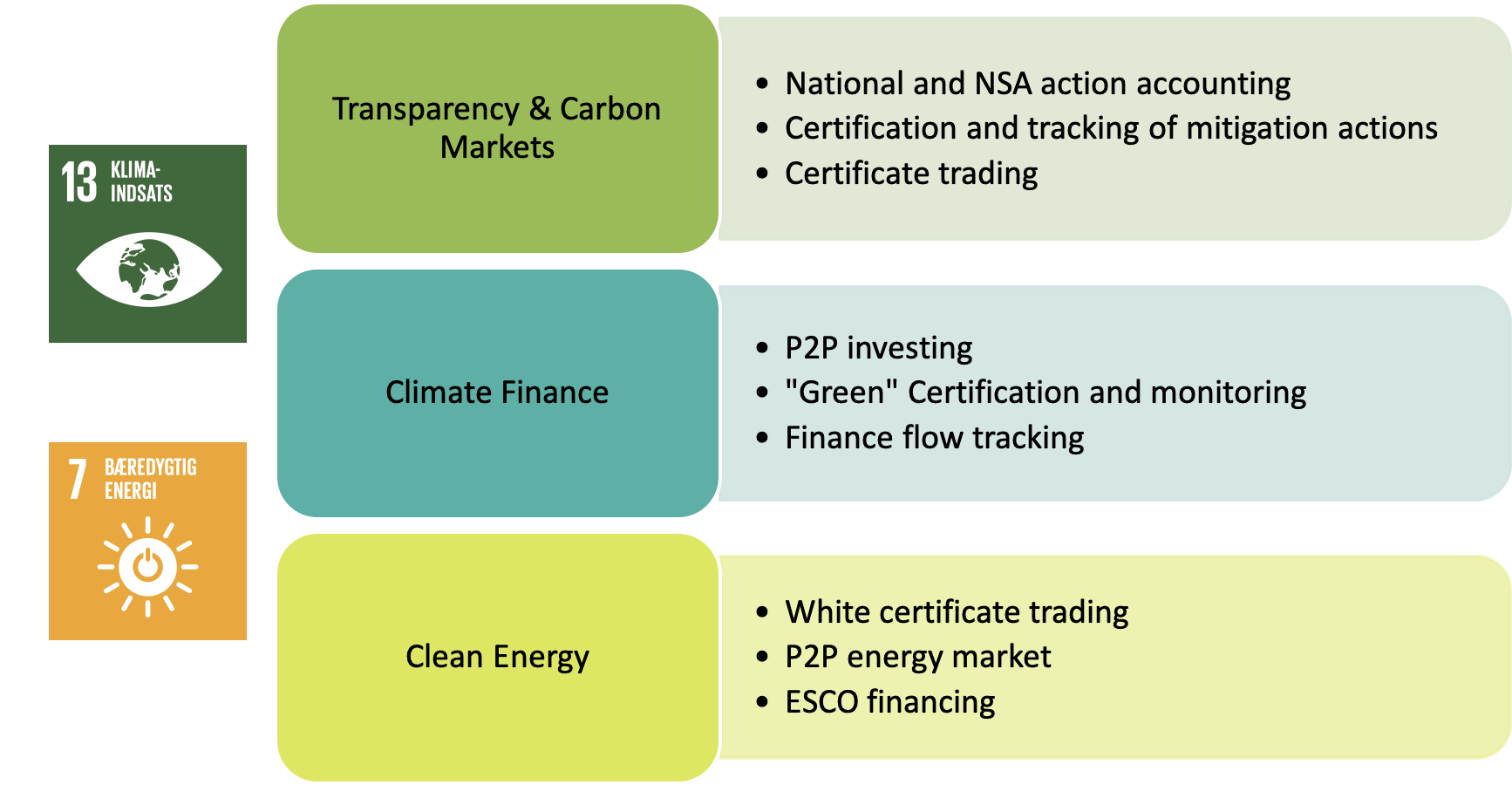 Together with the United Nations Framework Convention on Climate Change (UNFCCC), World Bank, and the Blockchain for Climate Foundation, we conducted a Webinar on Blockchain for Climate. This webinar sought to jointly develop a more nuanced understanding of the technology's potential and inform decision makers on the application of a DLT/blockchain solution to Article 6 of the Paris Agreement.
Transparency & Carbon Markets
Currently, UNEP DTU Partnership is supporting the development of the World Bank Climate Warehouse. This collaboration is informed by recent academic publications that outline how blockchain could address current carbon market and transparency limitations:
In this context, the partnership is using its network for country consultations for a bottom-up and co-creative process to develop innovative Paris Agreement transparency and carbon market designs.
In addition, UNEP DTU Partnership is collaborating with the IT University of Copenhagen on developing a Distributed Ledger System for Enforcing CO2 Emission Monitoring on European Roads, as outlined by the EU Commission.
Climate Finance
Developing business models for low carbon technologies in developing countries, UNEP DTU experts published a working paper for the Asian Development Bank Institute  (ADBI): Blockchain and Tokenized Securities: The Potential for Green Finance.
A summary of the publication is also available as a ADBI podcast: How blockchain could revolutionize green finance in Asia.
Clean Energy
UNEP DTU experts analysed the potential for a blockchain application towards different energy efficiency use cases in a recent publication: "How Can Blockchain Technology Accelerate Energy Efficiency Interventions? A Use Case Comparison"
UNEP DTU Partnership has also co-authored a blog post for United Nations Economic and Social Commission for Asia and the Pacific UNESCAP on "How Can Blockchain Accelerate the SDG7 Implementation?"
---
TEAM
TU Berlin, Sören Salomo (Collaboration Partner)
Laura Franke (now at Microsoft)
RESOURCES
Our Publications
Dissemination
UNESCAP blog post – How Can Blockchain Accelerate the SDG7 Implementation?
Promotion video II – Blockchain Application for the Paris Agreement Carbon Market Mechanism
Promotion video I – Designing a blockchain model for the Paris Agreement's Carbon Market Mechanism
ADBI Podcast – How blockchain could revolutionize green finance in Asia
Webinar – Webinar on Blockchain for Climate
Policy booklet – Carbon Market Challenges and Blockchain Solutions
Blockchain brochure – Climate Change Challenges and Blockchain Opportunities
News
Dec, 2020 – how-can-blockchain-technology-accelerate-energy-efficiency-interventions …
Jun 2020 – EU-Based Universities Say Blockchain Could Help Meet Paris Agreement Carbon Goals
Apr, 2020 – UNEP DTU Partnership joins climate collabathon
Sep, 2019 – Blockchain hackathon win for UNEP DTU Partnership researcher
Apr, 2019 – Blockchain for climate webinar
Nov, 2018 – Accelerating climate change action through blockchain technology