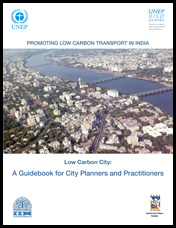 Three new publications from the 'Promoting Low Carbon Transport in India' project were launched this month. The first 'Low Carbon City: A Guidebook for City Planners and Practitioners' is prepared to link the outputs from the national Low Carbon Transport assessment with the process of developing Low-carbon Comprehensive Mobility Plans (LCMP) within the cities. The primary audience for this guidebook are the city planners, transport division executives and consultants working with the cities for transport planning. The guidebook provides values on some key assumptions that are required for preparation of LCMP plans e.g., fuel mix for transport sector, efficiency improvements, sectoral growth rates, CO2 intensity of grid, population projections, etc.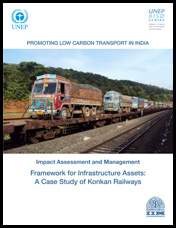 The second publications is 'Impact Assessment and Management Framework for Infrastructure Assets: A Case Study for Konkan Railways'. This report presents a case study on a prominent railway system in India that is facing challenges from climate change, along with a framework to analyse such situations. The framework is generic and can be used for analysing transport infrastructures at the city level. The report also provides a good introduction to climate change impacts and adaptation.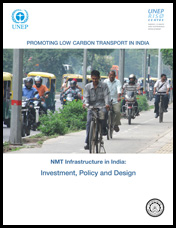 The third publication 'NMT Infrastructures in India: Investment, Policy and Design' presents a review of Non-Motorised Transport (NMT) projects in Indian cities. The study aims to highlight gaps in implementation of policy, and identify appropriate policy and design interventions required to encourage NMT use in Indian cities.
The publications have been authored by researchers from the three participating institutes of the project: the Indian Institute of Management Ahmedabad, the Indian Institute of Technology, Delhi and CEPT University, Ahmedabad along with researchers from the UNEP Risø Centre.
The 'Promoting Low Carbon Transport in India' project is funded under the International Climate Initiative of the German Government, and is designed in line with India's National Action Plan on Climate Change (NAPCC).