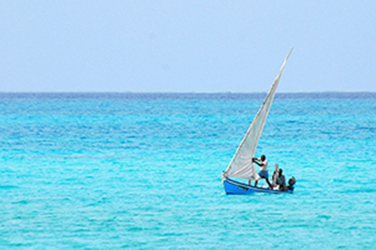 Located southwest of Sri Lanka in the Indian Ocean, Maldives is a small, low-lying island state, best known as a sought-after destination for luxury holidays in an idyllic setting. What is less known is that the islands' highest natural point is only 2.4 metres above sea level, and if CO2 emissions continue at the current level, the country is in serious threat of disappearing underwater before the turn of this century. To address this dire consequence, the Government of Maldives has pledged to lead on a low-carbon development path. Photo credit: mahlatini.com/maldives
UNEP DTU Partnership, through the DANIDA-funded Green Facility project, has recently finalized a Low Carbon Development (LCD) strategy to help the Ministry of Energy and Environment in Maldives achieve its carbon emissions goals. This research report provides data that the Maldives has been urgently seeking, and fills a gap that was hindering any significant change in policy and technology. 'We were hungry for a report like this, which provides reliable data and uses state-of-the-art analyses. To my knowledge, it is the first of its kind in Maldives which provides the cost saving that could be attained using different kinds of technology in the current scenario', remarked Ali Shareef, Director of the Climate Change Department at the Maldives Ministry of Energy and Environment.
(Photo credit: mahlatini.com/maldives)
The report provides estimates of the Maldives' greenhouse gas (GHG) emissions by 2020 and identifies abatement opportunities and costs. It also offers input for establishing 2020-targets, taking into consideration the politically binding pledge for carbon neutrality it made under the United Nations Framework Convention on Climate Change (UNFCCC).
According to the report, Maldives' GHG emissions are estimated to increase from about 1.1 million tonnes carbon dioxide equivalent (MtCO2e) in 2009 to about 2 MtCO2e in 2020. The two predominant emitting sectors are identified as electricity generation and transport. While electricity generation is the greatest emitter, it also holds the greatest mitigation potential, whereas transport offers less emissions-reduction possibilities, considering currently available technologies.
The scientific data made available through this report gives the Maldivian government a better understanding of which technologies and investments will help the country attain its emission reduction goals. Already, the report's positive impact is being felt. For example, the government is focusing on adopting energy efficiency (EE) policies, including a project in the building sector, formulation of a building code which is in favour of EE, retro fitting of appliances for demonstration and installation of EE harbour lights in rural islands. In the same vein, the government has been implementing a multilateral EU project on the island of Thinadhoo using solar PVs to meet 20 to 30 percent of the island's daily peak electricity demand.
While the LCD strategy allows the government to make better policy choices, there are still some key challenges on the road ahead. Aside from the transport sector, the tourism sector poses a serious challenge to Maldives' desire to follow a low-carbon development path, even though the sector has the highest potential to go low-carbon. Efforts to use renewable energy sources in the country's 100 resort islands will require committed cooperation from the private sector. 'The Ministry is in continuous dialogue with the private sector when the resort islands are leased,' says Shareef. 'Ten to twenty percent of their energy supply could come from renewable energy sources.'
The country is also looking to start Nationally Appropriate Mitigation Action (NAMA) projects. NAMA projects are an obvious next step for a low carbon development strategy, particularly in sectors such as transport and waste management. To this end, the government is seeking donor country investment, as the transition to renewable technologies is expensive. In the recent past, Maldives has received donor grants from Denmark, and the German government provided technical and financial assistance for taking the country from pilot projects to investment projects.
While the 2020 target is an ambitious one, Maldives shows how serious it is about meeting its commitment by implementing their LCD strategy, in which the government takes on an oversight role to streamline implementation. This should include steps such as Monitoring, Reporting and Verification (MRV), awareness and capacity building, detailed implementation strategies, as well as financial monitoring.