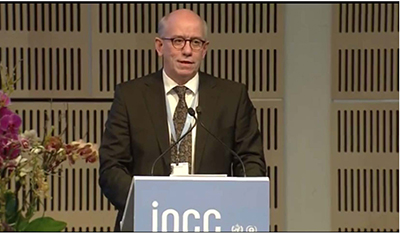 COPENHAGEN, 27 October – The Intergovernmental Panel on Climate Change (IPCC) opened a meeting in Copenhagen on Monday to finalize the Synthesis Report, the last stage of its Fifth Assessment Report (AR5), which provides policymakers with a comprehensive assessment of the risks of climate change.
On this occasion, UNEP DTU Partnership Director, John Christensen, addressed the gathering on behalf of UNEP.
'This event marks another pivotal moment in the fight against climate change as we prepare to adopt the Synthesis of the 5th Assessment Report (AR5) and Summary for Policy Makers, which will provide the foundations for policy response and will shine light on how to meet the climate challenge. This is happening just weeks ahead of the convening of the UN Climate Conference in Lima where negotiators will endeavor to broker what will hopefully be a break-­‐through climate agreement in 2015', Christensen noted.
The week-long meeting will distil and integrate the findings of the three IPCC Working Groups released over the past 13 months and the results of the two Special Reports brought out in 2011, providing fresh insights by drawing together related information from the various underlying reports.
"The Synthesis Report will provide the roadmap by which policymakers will hopefully find their way to a global agreement to finally reverse course on climate change," said Rajendra K. Pachauri, Chair of the IPCC. "It gives us the knowledge to make informed choices, the knowledge to build a brighter, more sustainable future. It enhances our vital understanding of the rationale for action – and the serious implications for inaction," he told the opening session of the meeting.
Danish Climate, Environment and Building Minister Rasmus Helveg Petersen and Danish Environment Minister Kirsten Brosbøl were among other speakers at the opening session.
During the meeting, delegates from the IPCC's member governments, in consultation with the scientists forming the author team that drafted the report, will scrutinize the Summary for Policymakers line by line to ensure it is consistent with the longer, underlying Synthesis Report, and examine the longer report section by section. Their work completes the Fifth Assessment Report, the most comprehensive assessment of climate change yet undertaken.
Pachauri, who as IPCC Chair led the writing of the Synthesis Report, urged policymakers negotiating a climate agreement to base their decisions on science. "May I humbly suggest that policymakers avoid being overcome by the seeming hopelessness of addressing climate change," he said. "It is not hopeless."
The Synthesis Report is due to be released on Sunday 2 November.
The Intergovernmental Panel on Climate Change (IPCC) is the world body for assessing the science related to climate change. The IPCC was set up in 1988 by the World Meteorological Organization (WMO) and United Nations Environment Programme (UNEP), endorsed by the United Nations General Assembly, to provide policymakers with regular assessments of the scientific basis of climate change, its impacts and future risks, and options for adaptation and mitigation.