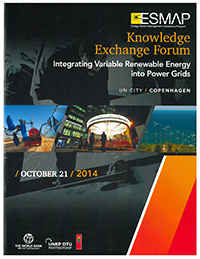 On Wednesday, 21 October, the World Bank's ESMAP programme organized a day-long conference on Variable Renewable Energy (VRE), in collaboration with UNEP DTU Partnership and DANIDA at the UN City.
The conference titled Integrating Variable Renewable Energy into Power Grids was aimed at helping countries that are interested in scaling up grid-connected VRE by facilitating a knowledge exchange on how such a scale up can be achieved while meeting the criteria for reliability and affordability.
The workshop was organised with the premise that while VRE sources such as wind and solar provide an increasing share of national energy supply, they also introduce challenges for planners responsible for the reliability, adequacy and stability of power systems. To address these issues, the event looked at the benefits, cost and obstacles from the point of view of a range of stakeholders that included representatives from the government, development banks, business entities and academia.
During the day topics discussed included planning for adequacy and greater system flexibility, distribution generation options and issues, implications for regulation and pricing in the context of different sector structures.
ESMAP is the Energy Sector Management Assistance Programme of the World Bank, and is a global knowledge and technical assistance programme that provides analytical and advisory services to low and middle income countries to increase their know-how and institutional capacity to achieve environmentally sustainable energy solutions for poverty reduction and economic growth.