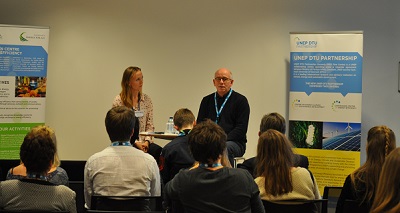 UNEP DTU Partnership attended celebrations to mark the 26th anniversary Convention for the Right of the Child on Friday, 20 November at UN City, in Copenhagen. Hosted by UNICEF, the event brought together child – rights activist and Nobel Peace Prize laureate 2014, Kailash Satyarthi, Danish Minister of Social Affairs and the Interior, Karen Elleman, and UNICEF Regional Director, Daniel Toole, to 400 attendees from the Danish civil society and private sector.
Two goals, one struggle
As part of the celebrations, key actors from various institutions working for children held sessions on how the different Sustainable Development Goals (SDG) can help improve lives for all children across the world. UNEP DTU Partnership Director, John Christensen, addressed two sessions articulating the linkages between SDG 1, No Poverty and SDG 13, Climate Action.
Political action
When asked about the challenges the world is facing today trying to combat climate change, Christensen said one of the main problems is that climate change is not a crisis like the financial crisis, where one can go back to the phase as was before the crisis. Ice is melting and livelihoods getting damaged, indicating that political action is needed now. While the consequences of climate change are often stronger and more damaging in developing countries, Denmark can also feel the impacts – "This year Denmark has had record temperatures every second month, July being the coldest in many years and October the warmest", said John Christensen.
Understanding the message
The audience questioned the way climate change and its impact is communicated, noting that currently the message may be too scientific and political for everyday citizens to grasp, especially children. This underlined the need to communicate in a way that creates understanding and engagement rather than fear and confusion among the public.
The event concluded with a networking reception, including performances by Danish singer Caroline Henderson, pianist Nikolaj Hess and magician Rune Klan.